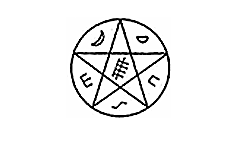 Talismans
They are sacred objects which are infused by me.

They are religious scriptures that are written down on a paper or metal.

Most famously known to mankind are the egyptian and the arabic talismans.
They have magical meanings and forces which In response will bring the desired outcome for the user.
They can be worn or be placed at home etc.
People of all religions, caste, community and cultures have been known to benefit from talismans.
The use of talismans are endless and depends on the user.

>>magical talismans<<