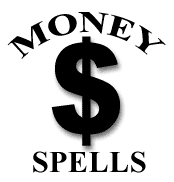 Good Luck Money Spells

Luck is vital in ones success and we all need good luck every now and then. Let's focus on the topic in details.
Good luck is related directly with destiny and we know luck is very important to bring money in a person's life. Without adequate good luck it's virtually impossible to become wealthy.
Individuals with good luck become successful and winners. Individuals who are deprived of good luck will become failures and unsuccessful. The spell I have written down here will bring about a much needed change for the latter in all its glory.
If you feel luck runs out on you regularly then the best way to attain good luck is by making a very small donation to the poor or needy and immediately you will ride high on good luck. This is a simple tip from me that everyone can use once in a while. This works.
Good Luck Money Spell
There are many good luck money spells hence it's my pleasure to write down the most easy and effective good luck money spell.
Cast this luck spell daily before sunset. It's best to take a shower before casting the spell.
Sit in a comforting position on a chair in front of your wealth, belongings and assets.
Calmly while observing your valuables, whisper this spell hundred times and imagine your valuables multiplying.
"MAROKAD MARPESO MOH"
The caster will notice unprecedented good luck forever, money will never dry up, keep multiplying and bad luck will become a memory of the past.