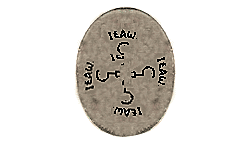 Magical Amulets
Amulets are sacred objects designed and infused magically for success, wealth, love, protection etc.
Are most effective in the form of gemstone metallic pendants.
Ancient history had various believes and for each purpose to get fulfilled there is a reciprocating writing and a design that is made on the amulet.
Amulets are made by ancient scripted writings and designs made or carved on them.

Each amulet is designed for a specific purpose.

You shall email me the specific purpose for which you desire an amulet.

Each amulet is costing US $ 85