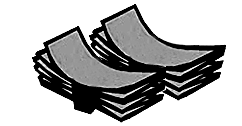 Effective Money Spell
All free money spells compiled on my pages are effective money spells and have thousands of testimonials to back up my claim.
The money spell I am about to present is undoubtedly my favorite.
This very special money spell is a secret spell and if one would ask me which one money spell is worth trying then this would be my personal recommendation.
I have termed this money spell as a secret spell since this is the only spell that's not been created by me and was handed over to me by my father and to him by his father. This is an ancestral secret magical money spell.
For the first time ever I am presenting this effective money spell for people to use and benefit from casting it.
This spell can be cast daily or at least once weekly.
Take a paper and with saffron write the spell on it.
"JAIKAH MANBASH JAL"
Now take a spray bottle filled with some water and submerge the paper in the bottle.
After a while spray the water in all the corners of you house, working place, worship area and office.
Feel free to use this money spell daily but the only one condition to remember is that the paper needs to be changed daily and use a fresh one every day.
This effective money spell is easy and works like none can imagine.