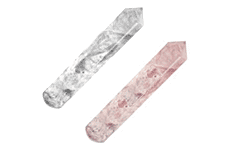 Crystal Healing
Crystals have got a tendency to cure sicknesses with ease.
The energy impulse created by crystals are received as slight vibrations by the human body.
Crystals are used to remove negativity, cure blood pressure, cleanse the skin and keep your body calm and happy.
It is beleived that the human body has various vital points and crystals work on the basis of these vital points termed as chakras.

There are various forms and shapes of crystal available but as per my knowledge and experience the best and the most effective form of crystal healing comes in the form of a pillar/wand.


I practice healing based on two crystals which are the most effective when it comes to crystal healing.

Rose Quartz Pillar/Wand
Will attract soul mate, lost love, attraction and for marriage.
Price US $ 75

Plain Crystal Pillar/Wand
Will cure any and all types of dreadful sicknesses and diseases and will combat sicknesses. Will keep you in complete peace and harmony.
Price US $ 75